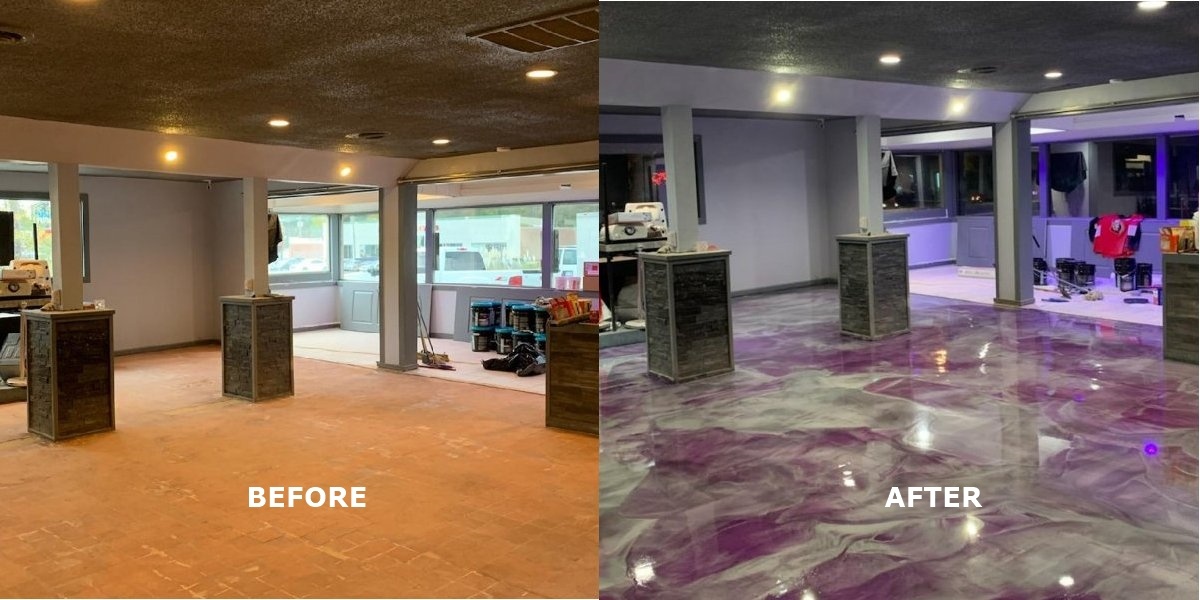 When you are looking for a commercial or garage floor coatings in the Fayetteville area that has the customization of a luxury flooring system with the performance worthy of an industrial application, you can feel as if you are stuck between a rock and a hard place.
There are flooring options like stamped concrete, heavy-duty carpet, and interlocking tiles but, none of these options will provide the protection, chemical resistance or the customization of an epoxy flooring system! Where traditional garage and commercial floorings systems fail, epoxy garage flooring is able to thrive so is it time to start thinking about this luxury flooring system?
The Affordability Of Epoxy Flooring
Flooring epoxy is one of the most used coatings around the world, from commercial garages to flashy showrooms. Even the standard epoxy floors can be tricked out to show off an amazing finish, all at budget-friendly pricing. People often doubt that epoxy flooring is as affordable as we say it is?. Well down below, you will find that we have outlined the average costs of the most popular floor epoxies:
Standard garage epoxies start at 2-5 dollars a square foot

Flaked garage epoxies start at 5 dollars a square foot

Metallic garage epoxies begin at 10-12 dollars a square foot

Logos can be implemented at around 50 dollars each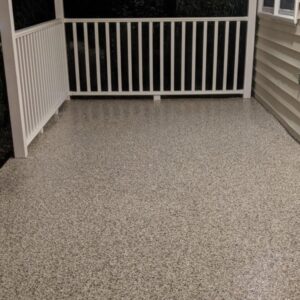 Customizing Your Epoxy Floor
Now that you know how affordable the epoxy floor coatings can be, there can't be that much customization that is available, right? If we take a look back a mere 20 years ago, we will find that all epoxy styling had little to no options for customization but now you can find how far epoxy has come with the pros and cons of customizing your garage with epoxy.
Pros
A nearly endless selection of base colors

The option to use multi-colored or single-colored flakes with unlimited configuration

The ability to use the always unusual metallic epoxy flooring system.

There are even ways to implement logos and text into your garage or commercial floor
Cons
Can easily be improperly installed

Will need to be replaced if not up to par

Epoxy can be very hard to remove

Not everyone loves the look of epoxy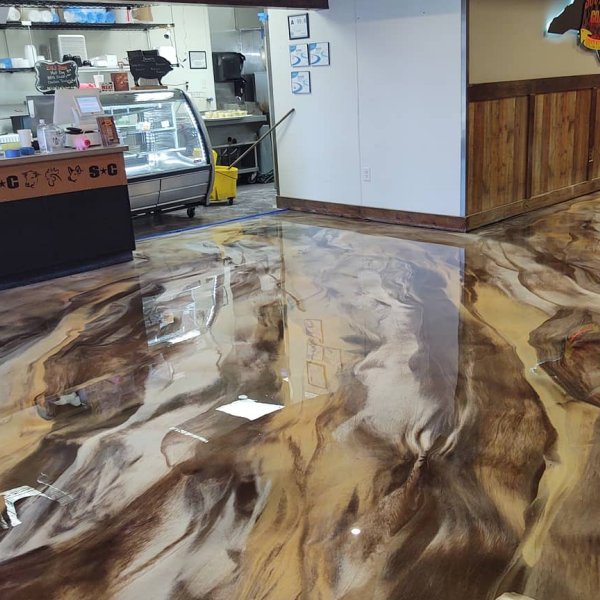 Make Your Commercial Epoxy Floor or Garage Floor Safer
On top of being affordable and highly customizable garage epoxies have the ability to make your garage safer no matter how you use it. The dark and gloomy setting of your garage can make the slightest imperfection a massive safety hazard and epoxy can make this situation completely disappear. Want to know how? Down below we have outlined how a garage and commercial epoxy flooring can make your space safer and also how it can be unsafe in a few scenarios:
Pros
Can make your garage up to 150 percent brighter

Objects on the flooring will be easier to spot

Additives can be used to give flooring slip/skid resistance
Cons
Can be slippery when wet or soiled

The ultra-hard surface will bruise if fallen on

During installation, harsh fumes may be present for a short time
Why You Should Use An Epoxy Flooring System
Besides all of the facts about epoxy flooring that were mentioned you will find that epoxy floors have so much more to offer. Perhaps you starting to see why garage epoxy is one of the most commonly used floor coatings? Let's make things even clearer! Below, you will find more of the specific benefits that will gain from using an epoxy garage floor coating:
Protection against most forms of physical damage

Carefree and easy maintenance

Can be installed in 2-3 days or less

Superior chemical and stain resistance

Resistance to waterborne bacteria like mold and mildew

Seamless and nonporous finish for increased safety
Investing In An Epoxy Floor
The final benefit that we will be covering in this article is epoxies amazing investment factor. This is one of the main reasons why residential homes and commercial spaces are rapidly making the switch to epoxy flloring. From adding value to your home and even adding more life to your concrete there are also downsides of using epoxy all of which you can find down below!
Pros
Increase the value of your home or business up to 5%

Help your concrete last 2-3 times longer

Epoxies can last 20-30 years
Cons
Epoxy is not attractive to everyone

Will be hard to replace or remove

May end up cracking after an extended time
The bottom line is if you want a luxury flooring system installed in your garage or business without having to dig deep into your savings, there is only one option that outshines the rest, epoxy flooring! Now that you know everything there is to know about epoxy flooring, we wish you well on all of your home improvement projects to come!
Call us today for a quote on your new epoxy floor.... (910) 490-4120