EPOXY FLOOR COATINGS IN THE FAYETTEVILLE AREA
We are committed to a completed flooring project that exceeds your expectations!
Epoxy floor coatings were most commonly used for garages, commercial and industrial flooring applications. Residential uses now are becoming much more popular, using many of the new metallic epoxy coatings as well as tinted epoxy flakes. Epoxy coatings are normally applied over concrete floors to provide a high-performance, smooth and durable surface that can last many years and withstand heavy loads with very minimal daily maintenance.
BENEFITS OF EPOXY FLOORING FOR YOUR HOME OR BUSINESS
Easy to clean, seamless surface:

Epoxy floor coatings dry to become durable, seamless surfaces that can easily be wiped free of dirt, dust, and debris. Because of this ability for easy cleaning, epoxy floor coatings are ideal for food, beverage, and pharmaceutical preparation and packaging plants.
Protective:

Epoxy flooring protects the underlying concrete from moisture, stains, grease and cracks. Over time this can save you a great deal of expense on cleaning and maintenance costs by eliminating the need to clean carpet or grout.
Resistant:

Epoxy floors are highly resistant to just about everything – oil, gasoline, bleach, transmission fluid, cleansers and more. This is one the main reasons they're frequently used in garages and within the automotive industry. Another advantage is that these floors also resistant to bacteria and germs, which makes them very easy to sanitize. This is why epoxy is an excellent choice for restaurants, hospitals and clinics.



OPTIONS FOR EPOXY FLOOR COATINGS
METALLIC EPOXY FLOORING
High-quality metallic epoxy flooring can completely transform the look of your bathroom, kitchen, garage or other living spaces and adds lots of value to your home. Spectacular effects can be accomplished with metallic epoxies that can imitate marble, lava flows and much more. You are only limited by your imagination. Don't know what metallic epoxy is or how metallic epoxy is going to work for you? Our goal is to enlighten you on the material, the process of installation and what you can expect from your flooring after it has been installed. Allow us to tell you why metallic epoxy is one the best epoxy flooring solutions you can have..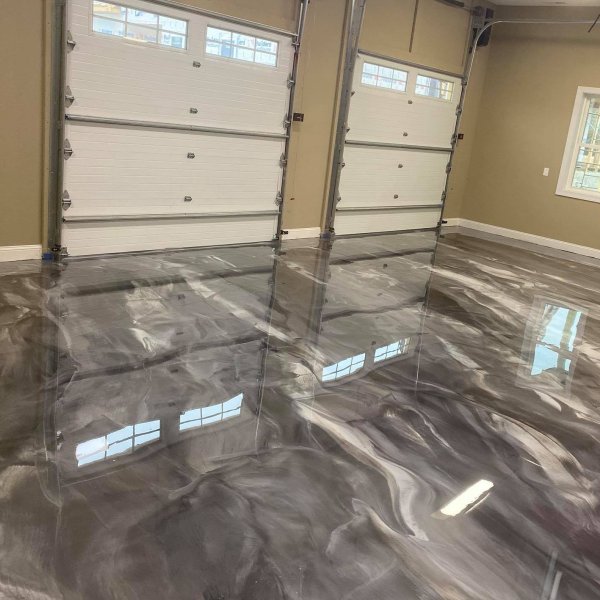 EPOXY FLAKE FLOORING
These flake epoxy floor coatings are used for two main reasons, aesthetics and function. Flake epoxy creates an ideal surface for any home, garage or commercial garage surface. These floors are able to be custom designed and are incredibly resistant to chemicals. Do not leave your concrete flooring naked.....
In the end, leaving your concrete surface uncovered is a very risky. Concrete alone cannot repel contaminates and will absorb liquids, dust, and debris. Uncoated concrete can have a rough texture that is not comfortable to drive or walk-on without shoes. Coatings can transform your concrete floor from a dull and lifeless space into a glossy and reflective area and coatings stop moisture from seeping through your concretes pores and creating expensive problems.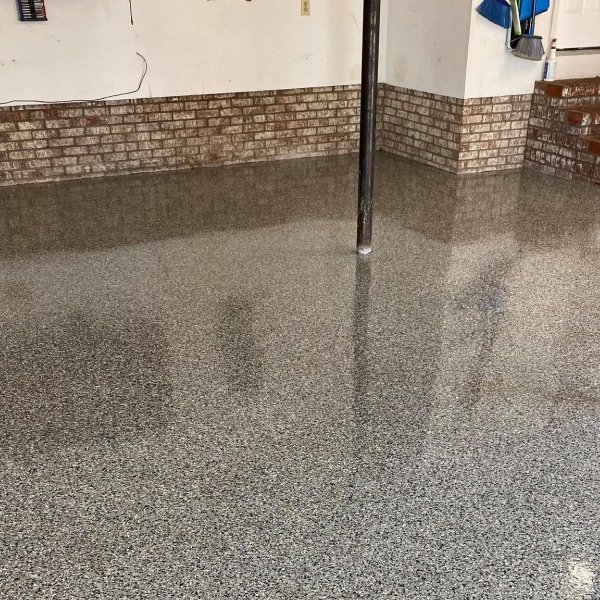 COMMERCIAL EPOXY FLOORING
Our expert design team helps you to create a floor that will not only look great, but will also be strong, durable, and have low maintenance far into the future. Commercial flooring needs to be attractive to customers but it also needs to be safe, sanitary, and durable enough to withstand constant traffic, dropped objects, rolling carts, and strict cleaning methods. While many commercial floors may look great at first, they quickly deteriorate, stain, and fail to live up to the hype. Our use of commercial epoxy flooring in the Fayetteville area meets even the strictest requirements for your facility. We offer a wide range of specialized high-performance commercial concrete epoxy coatings to meet the unique needs of your business. Whether you are concerned with appearance, slip resistance, moisture problems, or your floor's ability to resist damage from harsh chemicals, our commercial epoxy delivers.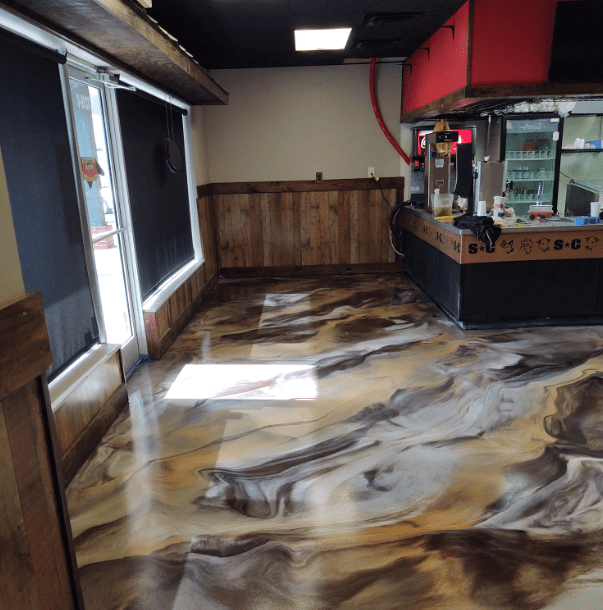 INDUSTRIAL EPOXY FLOORING
The flooring in your industrial space should withstand heavy traffic and hard impacts. This is what the ultimate in industrial epoxy flooring can do for you.
If you have any common sense you know that the conditions inside an industrial facility can be some of the most brutal conditions ever. If you even consider installing a sub-standard flooring system in an industrial facility you can expect that flooring will need to be removed and replaced in less than five years. That isn't a very good investment. If you care about your business you know that you need a flooring system that can last at least 15 years and the lifespan of the flooring is not all you should be worried about. We have a solution for all of our Fayetteville area owners that own industrial facilities and that solution is our industrial epoxy flooring. If you're tired of flooring that doesn't last, allow us to tell you about how our epoxy flooring systems can work for you and your facility.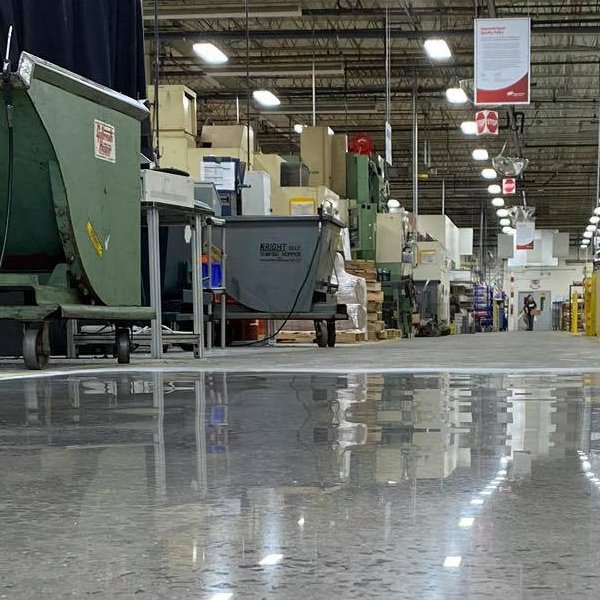 LET'S MAKE YOUR DREAM FLOOR A REALITY